Description
gPIMS® Field Control Unit
The gPIMS® Field Control Unit (FCU) autonomously collects and stores data from a connected gPIMS® sensor. Our most popular wireless versions transmit the data directly into our Monitoring Studio.
It can be retrofitted to exisiting gPIMS® sensors installed as a scheduled monitoring system.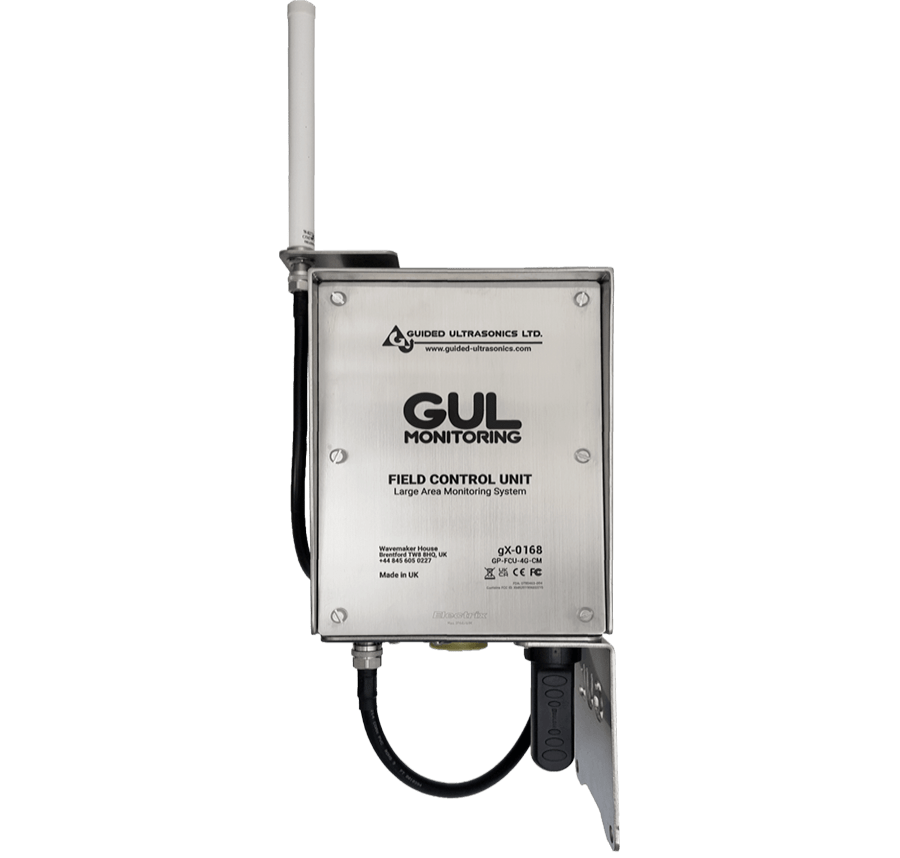 Ex version available (ATEX, IECEx)
Automatic collection
Rechargeable battery (except Ex version)
Wall thickness monitoring
Solar charging (except Ex version)
Monitoring Studio connected
USB
A unit designed for frequent autonomous data collection where data retrieval is manual. The unit stores a copy of the collected data in the easy-to-access USB Key.
4G
Designed for autonomous data upload via a cellular network directly into the Monitoring Studio. The integrated 4G SIM card provides coverage in most countries.
EX
A unit certified for use in hazardous atmospheres (Ex areas), designed for autonomous data upload via Wi-Fi . A certified router can be supplied to connect the unit to a cellular network.
Specifications – USB
Sensor Compatibility
gPIMS® Sensors
Typical Battery Life
Unlimited with Solar Panel, 500 Collections without
Solar Panel Charging
Compatible with GUL Supplied Panel
Cellular Modem (LTE/UMTS/GSM)
–
Internal Data Storage
Minimum 8GB (Archives last 2000 Collections)
Removable Data Storage
USB Key
Configuration Interface
Wi-Fi
Specifications – 4G
Sensor Compatibility
gPIMS® Sensors
Typical Battery Life
Unlimited with Solar Panel, 250 Collections without
Solar Panel Charging
Compatible with GUL Supplied Panel
Cellular Modem (LTE/UMTS/GSM)
Queltec EG21-G
Internal Data Storage
Minimum 8GB (Archives last 2000 Collections)
Configuration Interface
USB Device
Specifications – EX
Sensor Compatibility
gPIMS® EX Sensors
Typical Battery Life
500 Collections
Solar Panel Charging
Not Available
Cellular Modem (LTE/UMTS/GSM)
—
Internal Data Storage
Minimum 8GB (Archives last 2000 Collections)
Configuration Interface
Wi-Fi