The frequency-based method used by QSR1® directly relates the frequency properties of the waves to the pipe wall thickness.

In contrast, conventional NDT techniques, such as MRUT, use amplitude‑based signal processing methods, which only estimate defect sizes based on the amplitude of the signals.



Measurements from amplitude-based methods can be highly uncertain or inaccurate because there are many external factors, aside from corrosion depth, that can affect the amplitude of guided waves. An example would be corrosion profile or dimensions. Typically, corrosion are 3-dimensional with varying length, width and depth. A deep but narrow defect may produce the same signal amplitude response from a shallow but wide defect. Therefore, amplitude-based methods typically do not have specificity towards corrosion depth or remaining wall thickness, which is of main interest.

However, our patented QSR method of using shear horizontal (SH) guided waves and analysing its frequency content is much more selective towards measuring corrosion depth or remaining pipe wall thickness. Therefore, QSR is able to distinguish a deep but narrow defect, from a shallow but wide defect.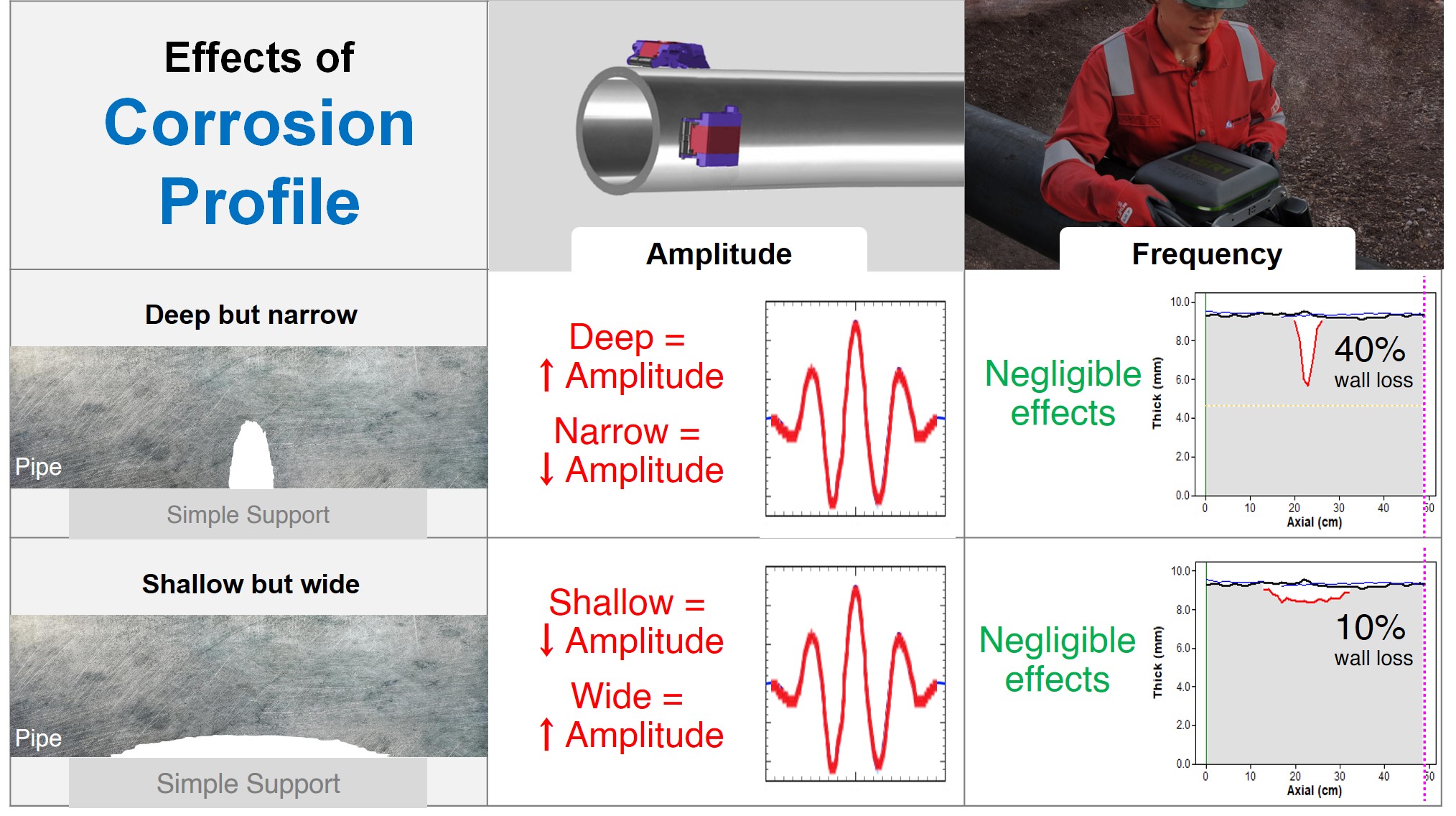 Another phenomena that makes amplitude-based methods uncertain is signal energy losses or attenuation. Attenuation of a signal due to coatings, general corrosion, liquid content or support pads can cause signal amplitude to decrease, which can actually cause false calls and greatly decreases sizing accuracy. However, QSR system is significantly less affected by this effect because the frequency response from attenuation due to the aforementioned sources can be distinguished from defects. Therefore, the QSR system is much more reliable and accurate in real pipes in the field, and not just lab pipe specimens.

By using frequency‑based analysis, the QSR1® provides a truly quantitative and more accurate sizing capability than instruments using amplitude‑based methods.